You can check the status of your Knights in here or chan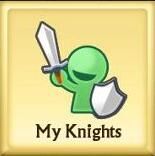 ge their Armor, Appearance, Gender and Displayed Name. You can also drop knights from battles or heal them.
My Knights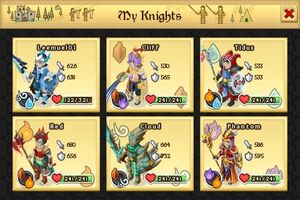 You can check how much health your Knights have here and, as you can see, you have 6 knights, all of which are different element except your "main" knight (top-left). Your main knight is the strongest (attack, defense and health) and can wear any armor of any element (or element combination). The rest must wear an armor that contains at least one of their respective elements (for instance, your Air knight can only wear armors that contain the Air element).
Equipment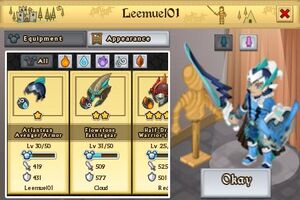 You can change the Armor of your Knights here. Doing this can help you be prepared for certain stages or Bosses. You can also change the genders of your knights (male or female). Different elements are unlocked while doing the first few stages of the tutorial.
Appearance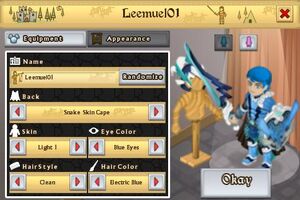 Here, you can change the appearance of your Knight according to your choice (including the displayed "name" of your knight) and you can also add capes or wings that you have purchased in the Shop. You can also change the Gender of your knights here which changes the knight's body shape and size.
Knight Leveling and Development
Boss Summary 10 armor slots
Level
Commander Health
Commander Attack/Defense
Followers Health
Followers Attack/Defense
Level Up Reward
1
---
2
38
3
46
36
35
27
4
54
44
41
33
+1 Armor+1 Friend
5
6
7
8
9
10
11
12
13
14
126
107
95
80
15
132
111
99
83
16
138
115
104
86
17
144
119
108
89
18
150
123
113
92
+1 Armor
+1 Gold Key
+1 Friend
19
156
127
117
95
20
162
131
122
98
21
168
134
126
101
22
174
138
131
104
23
180
142
135
107
24
186
146
140
110
25
192
150
144
113
26
198
154
149
116
27
204
157
153
118
28
210
161
158
121
29
216
165
162
124
30
222
169
167
127
31
228
171
171
128
32
233
173
175
130
33
239
175
179
131
34
244
177
183
133
35
250
180
188
135
36
255
182
191
137
37
261
184
196
138
38
266
186
200
140
39
272
188
204
141
40
277
190
208
143
41
283
192
212
144
42
288
194
216
146
43
294
196
221
147
44
299
198
224
149
45
305
201
229
151
46
310
203
233
152
47
316
205
237
154
48
321
207
241
155
+1 Armor
+1 Friend
49
327
209
245
157
+1 Friend
50
332
211
249
158
+4,000 Gold
+1 Armor
+1 Friend
51
338
213
254
160
52
343
215
257
161
53
349
217
262
163
+1 Gem
+1 Friend
54
354
219
266
164
+1 Armor
+1 Gold Key
+1 Friend
55
360
222
270
167
+4,000 Gold
+1 Friend
56
365
224
274
168
+1 Armor
+1 Friend
57
371
226
278
170
+1 Friend
58
376
228
282
171
+1 Gem
+1 Armor
+1 Friend
59
382
230
287
173
+1 Friend
60
387
232
290
174
+5000 Gold
+1 Armor
+1 Friend
61
393
234
295
176
+1 Friend
62
398
236
299
177
+1 Armor
+1 Gold Key
+ Friend
63
404
238
303
179
+1 Friend
64
409
240
307
180
+1 Armor
+1 Friend
65
415
243
311
182
+5000 Gold
+1 Friend
66
420
245
315
184
+1 Gem
+1 Armor
+1 Friend
67
426
247
320
185
+1 Friend
68
431
249
323
187
+1 Armor
+1 Gold Key
69
437
251
328
188
+1 Friend
70
442
253
332
190
+5000 Gold
+1 Armor
+1 Friend
71
448
255
336
191
+1 Friend
72
453
257
340
193
+1 Armor
+1 Friend
73
459
259
344
194
+1 Gem
+1 Friend
74
464
261
348
196
+1 Armor
+1 Friend
75
470
264
353
198
+5000 Gold
+1 Friend
76
475
266
356
200
+1 Armor
+1 Friend
77
481
268
361
201
+1 Gold Key
+1 Friend
78
486
270
365
203
+1 Armor
+1 Friend
79
492
272
369
204
+1 Friend
80
497
274
373
206
+5000 Gold
+1 Armor
+1 Friend
81
503
276
377
207
+1 Friend
82
508
278
381
209
+1 Gem
+1 Friend
83
514
280
386
210
+1 Gold Key
+1 Friend
84
519
282
389
212
+1 Friend
85
525
285
394
214
+5000 Gold
+1 Friend
86
530
287
398
215
+1 Gem
+1 Friend
87
536
289
402
217
+1 Friend
88
541
291
406
218
+1 Gold Key
+1 Friend
89
547
293
410
220
+1 Friend
90
552
295
414
221
+5000 Gold
+1 Armor
+1 Friend
91
558
297
419
223
+1 Gem
+1 Friend
92
563
299
422
224
+1 Armor
+1 Friend
93
569
301
427
226
+1 Friend
94
574
303
431
227
+1 Armor
+1 Friend
95
580
306
435
230
+5000 Gold
+1 Friend
96
585
308
439
231
+1 Armor
+1 Gold Key
+1 Friend
97
591
310
443
233
+1 Gem
+1 Friend
98
596
312
447
234
?
99
602
314
452
236
+1 Friend
100
607
316
455
237
?
101
↓
↓
↓
↓
?
102
↓
↓
↓
↓

+25000 Gold

103
↓
↓
↓
↓
+25000 Gold
104
↓
↓
↓
↓
+1 Gold Key
+2 Armor
105
↓
↓
↓
↓
?
106
↓
↓
↓
↓
?
107
↓
↓
↓
↓
+25000 Gold
108
↓
↓
↓
↓
+1 Gem
+1 Gold Key
+2 Armor
Current Events

Epic Boss
Tournament

Seismic Blows

(Ends September 29th, 2017)

Guild War

Diplomatic Fissure

(Ends September 25th, 2017)

Raid Boss

The Turkenator

Blitz Raid (27 hours, September 25th-26th, 2017)

Chest

Gulfguard Marker Step Chest

,

Terrestrial Bulwark Chest

,

Fusion Tree Bling Chest

,

Limited Edition Shadowflame Ember Chest

,

Limited Edition Sentinel Mark Chest

,

Limited Edition Heroic Loot Chest

(plus the normal chests including the

Bossarmor Chest

).

Other